Osusa, Tabu & Bill Odidi (eds.):
Retracing Kikuyu Popular Music.
Nairobi: Ketebul Music, 2010. 77 p. CD & DVD
ISBN N/A – EAN code 6-164001-943019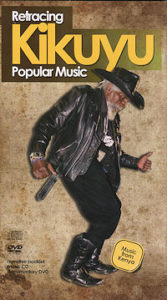 CONTENTS
Foreword by Dr. Joyce Nyairo 5
1. Mapping the Music 6
From the 1890s, The oral traditions of the Gikuyu were greatly disrupted and eroded by their protracted encounters with British colonialism.
2. Influences: The Accordion, Yodelling, and, the Acoustic Guitar 10
Modern Gikuyu musicians echo some of the key characteristics of American Country musicians, including their dress style, complete with stetson hats, cowboy boots 6 denim suits.
3. The Emergence of Joseph Kamaru 25
With over 3,000 compositions performed in at least 3 languages and in an array of styles and genres, Kamaru is the undisputed King of Kikuyu popular music.
4. The Benga Invasion and the Boys from Gatanga 32
The 1970s saw Kikuyu music grow in new directions as artistes engaged in collaborations with musicians from other communities, in particular Luo guitarists skilled in Benga.
5. Gospel Wins the Day! 54
Gospel music by the Akorino sect represented the authentic Kikuyu gospel rhythms.
6. Production: River Road, Radio and Road Shows 57
During the reign of pioneer Kikuyu musicians recording was a haphazard affair dependent upon the whims of the international recording labels of the time such as East African Records.
7. Mugithi Nights: The Return to Roots 63
The old Pentecostal Kikuyu hymn that celebrates 'Mugithi wa Matu-ini' (the train to the heavens) is the genesis of the term Mugithi.
8. New Directions: Kameme Online 75
The future of Kikuyu popular music seems to belong to those artistes who can retain the essence of Kikuyu rhythm and idiom while at the same time welding these sounds to global music forms.
CD
01. NYERI KWA RUBATHI Shinda Gikombe (1952)
02. MAYAI John Arthur (1948)
03. KWINI MARITATI H.M. Karuiki (1978)
04. ROSANNA Sammy Ngaku (1948)
05. GIKUU NI KIURU Wanganangu & Meeciria (1985)
06. GWITU NI RIABAI  Sammy Ngaku (1948)
07. NDINAKURUMA Mwangi wa Maguru (1957)
08. KUNDA RURU Roman Warigi (1962)
09. MUTHONI COOKA THIKA Roman Warigi (1962)
10. MUHIKI Roman Warigi (1962)
11. NDARI IKUMI NA INYA Joseph Kamaru (1966)
12. NDARI YA MWARIMU Joseph Kamaru (1969)
13. ANDU A MADARAKA Joseph Kamaru (1969)
14. NJOHI NDIRI MWARIMU Joseph Kamaru (1966)
15. RUGANO RWA NAIVASHA S. K. Kimani (1979)
16. SINYORITA Francis Rugwiti (1979)
17. CUCU WA GAKUNGA  John Ndichu (1978)
18. TIGA KUMUTE J. B. Maina (1992)
19. NANA D.K. Mwai (1976)
0
0
Flemming Harrev
Flemming Harrev
2017-09-23 15:38:25
2018-10-08 17:06:03
sibi-okumu2010