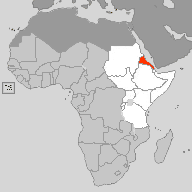 See as well / Voir aussi / Veja também "East Africa general – Articles"
Andemichael, Yohannes Abraha;
Elisam Magara & Joyce Bukirwa Nyumba:
Design of an Indigenous Music Information
Storage and Retrieval System in Eritrea.
Indilinga. African Journal of Indigenous Knowledge
Systems (Pietermaritzburg), Vol. 2, No. 1, 2003: 69-79.
Kimberlin, Cynthia Tse:
'Women, Music, and 'Chains of the Mind':
Eritrea and the Tigray Region of Ethiopia, 1972–93.
in: Moisala, Pirkko & Beverley Diamond (eds.):
Music and Gender.
Urbana, Ill.: University of Illinois Press, 2000: 239–265.
Matzke, Christine:
Of Suwa Houses and Singing Contests: Early Urban Women Performers in Asmara, Eritrea.
in: Banham, Martin; James Gibbs & Femi Osofisan (eds.):
African Theatre Women.
Oxford: James Currey; Johannesburg: Witwatersrand University Press &
Bloomington, Ind.: Indiana University Press, 2002: 29-46.
Mesfin; Dawit:
Eritrea Songs of the Patriots.
in: Broughton, Simon; Mark Ellingham & Jon Lusk (eds.):
The Rough Guide to World Music. Volume 1: Africa and the Middle East.
London: The Rough Guides, 2006: 103-107.
Page created 09/08/2018 © afrobib.com – update 18/10/2018