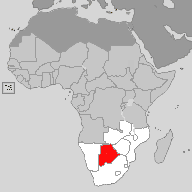 See as well / Voir aussi / Veja também "Southern Africa general – Articles"
Ditsele, Thabo:
The Promotion of Setswana through Hip Hop and motswakolistas.
Journal of the Musical Arts in Africa (Grahamstown),
Vol. 14, Issue 1-2, 2017: 1-14.
Lloyd, Blake Te'Neil & Julia L. Mendez:
Batswana 1 Adolescents' Interpretation of American
Music Videos: So that's What that Means!
Journal of Black Psychology (Thousand Oaks, Calif.),
Vol. 27, Issue 4, 2001: 464-476.
Molefhe, Rampholo:
Botswana Khoisan to Pop.
in: Broughton, Simon; Mark Ellingham & Jon Lusk (eds.):
The Rough Guide to World Music. Volume 1: Africa and the Middle East.
London: The Rough Guides, 2006: 43-46.
Rapoo, Connie:
Urbanised Soundtracks: Youth Popular Culture in the African city.
Social Dynamics (Cape Town), Vol. 39, Issue 2, 2013: 368-383.
Page created 13/08/2018 © afrobib.com – update 15/10/2018