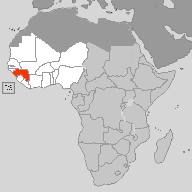 See as well / Voir aussi / Veja também "Afrique de l'Ouest en général– Livres"
Dave, Nomita:
The Revolution's Echoes:
Music and Political Culture in Conakry, Guinea.
D.Phil. University of Oxford, 2013. 624 p.
Dave, Nomi:
The Revolution's Echoes. Music, Politics, and Pleasure in Guinea.
Chicago, Ill.: University of Chicago Press, 2019. 208 p.
Contents
Dunn, Meaghan C.:
Ça va pas, mais ça va changer.
Guinean hip hop: A Postcolonial History.
M.A. International Development Studies, University of Amsterdam, 2006.
Hashachar, Yair:
Miriam Makeba in Guinea. Deterritorializing History Through Music.
M.A. The Hebrew University of Jerusalem, 2015. 79 p.
Contents – PDF Download / Télécharger / Baixar 3.95 MB
Kamano, 'Maréchal' Elie:
Malaya.
Paris & Dakar: L'Harmattan Sénégal, 2017. 124 p.
Table des matières
Kouyaté, Mamadou:
Sory Kandia Kouyaté. Chantre immortel d'une Afrique éternelle.
Paris: L'Harmattan, 2012. 123 p.
Table des matières
Morel Junior, Justin & Souleymane Keita:
Bembeya Jazz National. Conquante ans après, la légende continue.
Paris: L'Harmattan, 2011. 154 p.
Table des matières
Page créée 14/07/2017 ©  – mettre à jour 09/06/2020