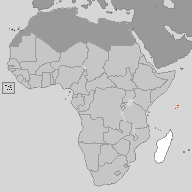 See as well / Voir aussi / Veja também "Indian Ocean general – Articles"
Anonymous:
Finding a Voice.
Africa (London), No. 166, June 1985: 66.
Anonymous:
The Seychelles Head for Cultural Revolution.
Africa Now (London), No. 68, January 1987: 39.
Mahoune, Jean-Claude Pascal:
The origin of the traditional music / dances of the Republic of Seychelles.
in: Live, Yu-Sion & Jean-François Hamon (dir.):
Diversité et spécialités des musiques traditionelles de l'Ocean Indien.
Kabaro. Revue internationale des sciences de l'homme et des sociétés,
Université de la Réunion (Saint-Denis- La Réunion),
vol. 2, nos. 2-3, 2004: 285-293.
Page created 12/08/2018 © afrobib.com