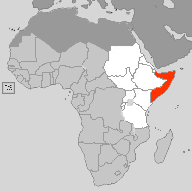 See as well / Voir aussi / Veja também "East Africa general – Articles"
Bensignor, François:
Maryam Mursal, le destin tourmenté d'une star somalienne.
Hommes et Migrations (Paris), n° 1213, mai-juin 1998: 112-117.
Giannattasio, R.:
The Stdy of Somali Music: Present State.
in: Puglielli, Annarita (ed.):
Proceedings of the Third International Conference of Somali Studies.
Rome: II Pensiero Scientifico Editore, 1988: 158-167.
Goth, Bashir:
Magool: the Inimitable Nightingale of Somali Music.
Bildhaan. An International Journal of Somali Studies (St. Paul, Minn.),
Vol. 14, 2014: 1-24.
Johnson, John William:
Music and Poetry in Somalia.
in: Stone, Ruth M. (ed.):
Africa. The Garland Encyclopedia of World Music, Vol. 1.
New York, N.Y. & London: Garland Publishing Inc., 1998: 610-621.
Reprint
New York, N.Y. & London: Routledge, 2013: 610-621.
Johnson, John William:
The Computer Technology and the Study of Music and Prosody.
The Case of Somali Oral Performance.
in: Kaschula, Russell H. (ed.):
African Oral Literature. Functions in Contemporary Contexts.
Claremont: New Africa Books, 2001: 1-15.
O'Dúbhda, Fíacha:
On the Musical Patterning of Sculpted Words:
Exploring the Relationship between Melody and Metre in a Somali Poetic Form.
African Music (Grahamstown), Vol. 8, No. 3, 2009: 97-116.
Page created 11/08/2018 © afrobib.com – update 18/10/2018