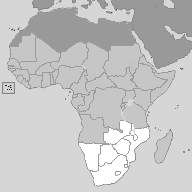 See as well / Voir aussi / Veja também "Africa general – Articles"
Hudson, Mark:
Southern Africa Archives Hugh Tracey: Pioneer Archivist.
in: Broughton, Simon; Mark Ellingham & Jon Lusk (eds.):
The Rough Guide to World Music. Volume 1: Africa and the Middle East.
London: The Rough Guides, 2006: 393-396.
Kubik, Gerhard:
Kwela, Simanje-manje und Mbaqanga.
Transkulturative Prozesse in der Musik des Südlichen Afrika.
Österreichische Musikzeitschrift (Wien),
43. Jahrgang, Heft  7-8, 1988: 407-411.
Kubik, Gerhard:
The Southern African Periphery: Banjo Traditions in Zambia and Malawi.
The World of Music (Berlin), Vol. 31, No. 1, 1989: 3-29.
Mans, Minette:
The Changing Body in Southern Africa: A Perspective from Ethnomusicology.
in: Bresler, Liora (ed.):
Knowing Bodies, Moving Minds: Towards Embodied Teaching and Learning.
Dordrecht: Kluwer Academic Publishers, 2004: 77-96.
Page created 13/08/2018 © afrobib.com