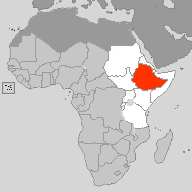 See as well / Voir aussi / Veja também "East Africa general – Books"
Bahirtas, Gezahegen Teji:
Music Censorship in Contemporary Ethiopia.
The Case of Ethiopian Radio and FM Addis 97.1.
Saarbrücken: VDM Verlag, 2009. 88 p.
ISBN 978-3-639-19584-2
Bekele, Zenebe:
Music in the Horn.
A Preliminary Analytical Approach to the Study of Ethiopian Music.
Stockholm: Published by the Author, 1987. 119 p.
Bender, Wolfgang:
Musik aus Äthiopien. Ein kommentierter Katalog zu einer
Auswahl traditioneller und moderner Musik aus Äthiopien.
Kommentierter Katalog zur afrikanischen Musik Nr. 1.
Bayreuth: Iwalewa, Universität Bayreuth, 1982. 20 p.
Eshete, Aleme:
Songs of the Ethiopian Revolution. Chansons de la révolution éthiopienne.
Addis Ababa: Ministry of Culture, 1979. 118 p.
Contents / Table des matières
Falceto, Francis:
Abyssinie Swing.
A Pictorial History of Modern Ethiopian Music. /
Image de la musique éthiopienne moderne.
Addis Ababa: Shama Books, 2001. 120 p.
Contents / Table des matières
Kidané, Berhané:
The Origin and the Development of the Imperial Guard Band 1924-1974.
B.A. Addis Ababa University, 1985.
Mollenhauer, Shawn Michael:
Millions on the Margins: Music, Ethnicity, and Censorship Among the Oromo of Ethiopia.
Ph.D. University of California (Riverside, Calif), 2011. x & 251 p.
Contents – PDF Download / Télécharger / Baixar 27.8 MB
Powne, Michael:
Ethiopian Music: An Introduction.
A Survey of Ecclesiastical and Secular Ethiopian Music and Instruments.
London: Oxford University Press, 1966. Reprint 1968. xviii & 156 p.
ISBN 978-0-1931-1908-6
2nd reprint
Westport, Conn.: Greenwood Press, 1980. xix & 160 p.
ISBN 978-0-3132-2161-3
Seyoum, Selem:
The Origin and Development of Zemenawi Music in Ethiopia 1896-1974.
B.A.  Addis Ababa University, 1988.
Simeneh, B.:
A Profile of the Life and Works of Mulatu Astatke.
Term Paper. Yared School of Music (Addis Ababa), July 2004.
Zegeye, Abebe:
Mulatu Astatke. The Making of Ethio Jazz.
Maskerem Assegued in Conversation with Mulatu Astatke.
Pretoria: Unisa Press / Trenton, N.J. : The Red Sea Press, 2009. 55 p. & CD
Contents
Page created 22/09/2017 © afrobib.com