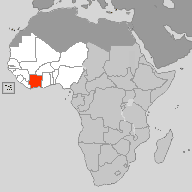 See as well / Voir aussi / Veja também "Afrique de l'Ouest en général – Articles"
Akindes, Simon:
Playing It "Loud and Straight". Reggae, Zouglou,
Mapouka and Youth Insubordination in Côte d'lvoire.
in: Palmberg, Mai & Annemette Kirkegaard (eds.):
Playing with Identities in Contemporary Music in Africa.
Uppsala: Nordiska Afrikainstitutet, 2002: 86-103.
Bahi, Auguste Aghi:
Musique populaire moderne et coproduction de l'imaginaire national en Côte d'Ivoire.
in: Akindès, Francis (ed.):
Côte d'Ivoire : la réinvention de soi dans la violence.
Dakar: CODESRIA, 2011: 133-168.
Bakyono, Jean-Servais:
Abidjan : la rue secrète des poètes.
Africultures (Paris), n° 21, octobre 1999: 28-31.
Bensignor François, Brooke Wentz & Soro Solo:
Cote d'lvoire Zouglou to Cut'n'Run.
in: Broughton, Simon; Mark Ellingham & Jon Lusk (eds.):
The Rough Guide to World Music. Volume 1: Africa and the Middle East.
London: The Rough Guides, 2006: 91-98.
Ble, Raoul G. :
Zouglou et réalités sociales des jeunes en Côte d'Ivoire.
Afrique dévelopement (Dakar), vol. 31, n° 1, 2006: 168-184.
Bourderionnet, Olivier:
Displacement in French/Displacement of French:
The Reggae and R'n'B of Tiken Jah Fakoly and Corneille.
Research in African Literatures (Bloomington, Ind.), Vol. 39, No. 4, 2008: 14-23.
Dedy, Séri:
Opinions des publics face à la musique ivoirienne.
Annales de l'Université d'Abidjan , vol. 10, 1982: 101-119.
Dedy, Seri:
Musique traditionnelle et développement national en Côte d'Ivoire.
Tiers-Monde (Paris), tome 25, n° 97, 1984: 109-124.
Derive, Jean & Marie-Clémence Adom:
Zouglou and Current Socio-Political Issues in Côte d'Ivoire.
The Global South (Bloomington, Ind.), Vol. 5, No. 2, Fall 2011: 21-49.
Djedje, Jacqueline:
The Role of Mass Media in the Development of Urban African Music.
Paper Presented at the 27th Annual Meeting of the African Studies Association,
Los Angeles, California, October 25-28, 1984. [84-30]. 10 p.
Doucet, Lyse:
Dance Ziglibity. Who will Succeed Ernesto Djedje as the
Greatest Exponent of Ivory Coast's own Dance Style?
West Africa (London), 17 December 1994: 2588.
Fié, Doh Ludovic:
Crise politique et production musicale en Côte d'Ivoire.
Cahiers du Centre d'études et de recherche en lettres, sciences humaines
et sociales (Ouagadougou), tome 24, nᵒ 32, février 2009: 125-152.
Fié, Doh Ludovic:
Refus et liberté : contribution des musiques populaires
urbaines aux mutations sociopolitiques en Côte d'Ivoire.
Cycnos (Nice), Vol. 28, n° Spécial, 2012. Mis en ligne le 01 juillet 2012.
Graham, Ronnie:
Chapter 7 Côte d'Ivoire.
Stern's Guide to Contemporary African Music.
London: Zwan / Off the Record Press, 1988: 116-124.
Graham, Ronnie:
Chapter 9 Côte d'Ivoire.
The World of African Music. Stern's Guide to Contemporary African Music. Volume 2.
Chicago, Ill.: Pluto Press: 1992: 73-77.
Holas, B[ohumil]:
La goumbé. Une association de jeunesse musulmane en basse Côte d'Ivoire.
Kongo-Oversee (Antwerpen), Vol. 19, No. 1/2, 1953: 116-131.
Kadi, Germain-Arsène:
La dynamique du zouglou de Côte d'Ivoire en Afrique francophone.
Diogène (Paris), 2014/2 (n° 246-247): 204-221.
Konate, Yacouba:
Génération zouglou.
Cahiers d'études africaines (Paris), nᵒ 168, 2002: 777-796.
Land, F. Mitchell:
Reggae, Resistance and the State: Television and Popular Music in the Côte d'Ivoire.
Critical Studies in Mass Communication (Abingdon), Vol. 12, Issue 4, 1995: 438-454.
Reed, Daniel B.:
Promises of the Chameleon: Reggae Artist Tiken Jah Fakoly's
Intertextual Contestation of Power in Côte d'Ivoire.
in: Charry, Eric (ed.):
Hip Hop Africa. New African Music in a Globalizing World.
Bloomington, Ind.: Indiana University Press, 2012: 92-108.
Sangaré, Yacouba:
« Le marché de la musique n'est pas encore mûr en Afrique ».
Entretien avec Jean-Alain Texier directeur général de Jat Music (Abidjan).
Africulture (Paris), n° 29, juin 2000: 49-50.
Schumann, Anne:
Popular Music and Political Change in Côte d'Ivoire: The Divergent Dynamics of Zougglou and Reggae.
Journal of African Media Studies (Bristol), Vol. 1, Issue 1, October 2008: 117-134.
Schumann, Anne:
Music at War: Reggae Musicians as Political Actors in the Ivoirian Crisis.
Journal of African Cultural Studies (Abingdon), Volume 27, Issue 3, 2015: 342-355.
Schumann, Anne:
A Generation of Orphans: The Socio-Economic Crisis in Côte D'ivoire as Seen Through Popular Music.
Africa (London), Vol.  82, No. 4, 2012: 535-555.
Schumann, Anne:
Songs of a New Era: Popular Music and Political Expression in the Ivorian Crisis.
African Affairs (London), Vol. 112, No. 448, 2013: 440-459.
Suzuki, Hiroyuki: *
Rapper, danser et se vendre bien : la commercialisation de la culture de la rue à Abidjan.
in: Kawada, Junzo et Kenichi Tsukada (dir.):
Cultures Sonores d'Afrique II : Aspects Dynamiques.
Hiroshima: Hiroshima City University 2001: 97-125.
Tououi bi Irié, Ernest:
Le zouglou en quête d'une identité.
Cahiers du CERLESHS [Cahiers du Centre de recherche en Lettres, Sciences Humaines et Sociales,
Université de Ouagadougou], tome 25, n° 36, 2010: 205-232.
Page créée 31/07/2018 © afrobib.com – mis à jour 22/10/2018