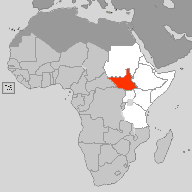 See as well / Voir aussi / Veja também "East Africa general – Articles"
Impey, Angela:
Keeping in touch via Cassette:
Tracing Dinka Songs from Cattle Camp to Transnational Audio-Letter.
Journal of African Cultural Studies (Abingdon), Vol. 25, Issue 2, 2013: 197-210.
Impey, Angela:
The Poetics of Transitional Justice in Dinka Songs in South Sudan.
UNISCI Discussion Papers (Madrid), No. 33, 2013: 57-78.
Vambe, Maurice Taonezvi:
Songs that won South Sudan's Political Independence:
A Warchild Perspective.
Muziki (Pretoria), Journal of Music Research in Africa,
Vol. 11, Issue 1, 2014: 4-17.
Page created 11/08/2018 © afrobib.com