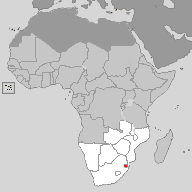 See as well / Voir aussi / Veja também "Southern Africa general – Articles"
Ndlangamandla, Sibusiso C.:
Performing Gendered Identities:
In search of the Masculine Voice in siSwati Popular Music.
Muziki (Pretoria), Journal of Music Research in Africa,
Vol. 7, Issue 1, 2010: 97-106.
Rycroft, David:
The Music of the Zulu and the Swazi.
in: Malan, Jacques P.:
South African Music Encyclopedia.
Cape Town: Oxford University Press, 1982: 314-344.
Page created 13/08/2018 © afrobib.com