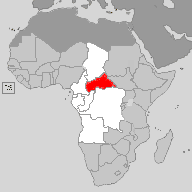 See as well / Voir aussi / Veja também "l'Afrique centrale en général – Articles"
Feidangai, Bruno:
« Les intellectuels populaires » de la musique centrafricaine
vecteurs de construction et de revendications identitaires urbaines.
in: Maupeu, Hervé; Christiane Albert & Abel Kouvouama:
Intellectuels populaires, un paradoxe créatif.
Pau: Publications de l'Université de Pau PUP, 2007: 77-90.
Feidangai, Bruno:
Per una geografia sociale e culturale della musica popolare
urbana nella Repubblica Centrafricana: i 'ködrö' di Bangui.
Terra d'Africa (Milano), no. 16, 2007-2009 : 211-231.
Kisliuk, Michelle:
Musical Life in the Central African Republic.
in: Stone, Ruth M. (ed.):
Africa. The Garland Encyclopedia of World Music, Vol. 1.
New York, N.Y. & London: Garland Publishing Inc., 1998: 681-697.
Reprint
New York, N.Y. & London: Routledge, 2013: 681-697.
Saulnier, P. Pierre:
Les « tranches de vie » des chants d'orchestres.
Notre librairie (Paris), n° 97, avril-mai 1989: 46-48.
Saulnier, P. Pierre:
Chants d'orchestres en République centrafricaine.
Politique africaine (Paris), n° 45, mars 1992: 135-141.
Page créée 06/08/2018 © afrobib.com – mis à jour 22/10/2018